About the Potomac Harmony Chorus
Our chorus is made up of a diverse group of women from the Washington, D.C. metro area who share a love of harmonizing and entertaining. We are a membership organization of performers who meet regularly to practice and perform.
Chartered in 1976, Potomac Harmony Chorus
performs a variety of music, from traditional favorites to the fifties sound to modern jazz, all in four-part harmony, barbershop style. In doing so, we preserve -- and evolve -- a unique American art form. For our members, there's fun to be had, along with opportunities to develop our leadership and performing skills.

Our long standing Director, Ozzi Mask, retired from her postion on May 1, 2022 after leading us for 45 years. The chorus has been honored for its musical excellence five times as regional champions (1990, 1996, 2002, 2004, and 2006) and has frequently ranked as a top-five medalist at the annual regional competition.

Now we are excited to continue our musical journey with Allison Lynskey! She comes to us from the Vienna-Falls Chorus and is active with her quartet Up All night. Look for more great things from Potoma Harmony Chorus!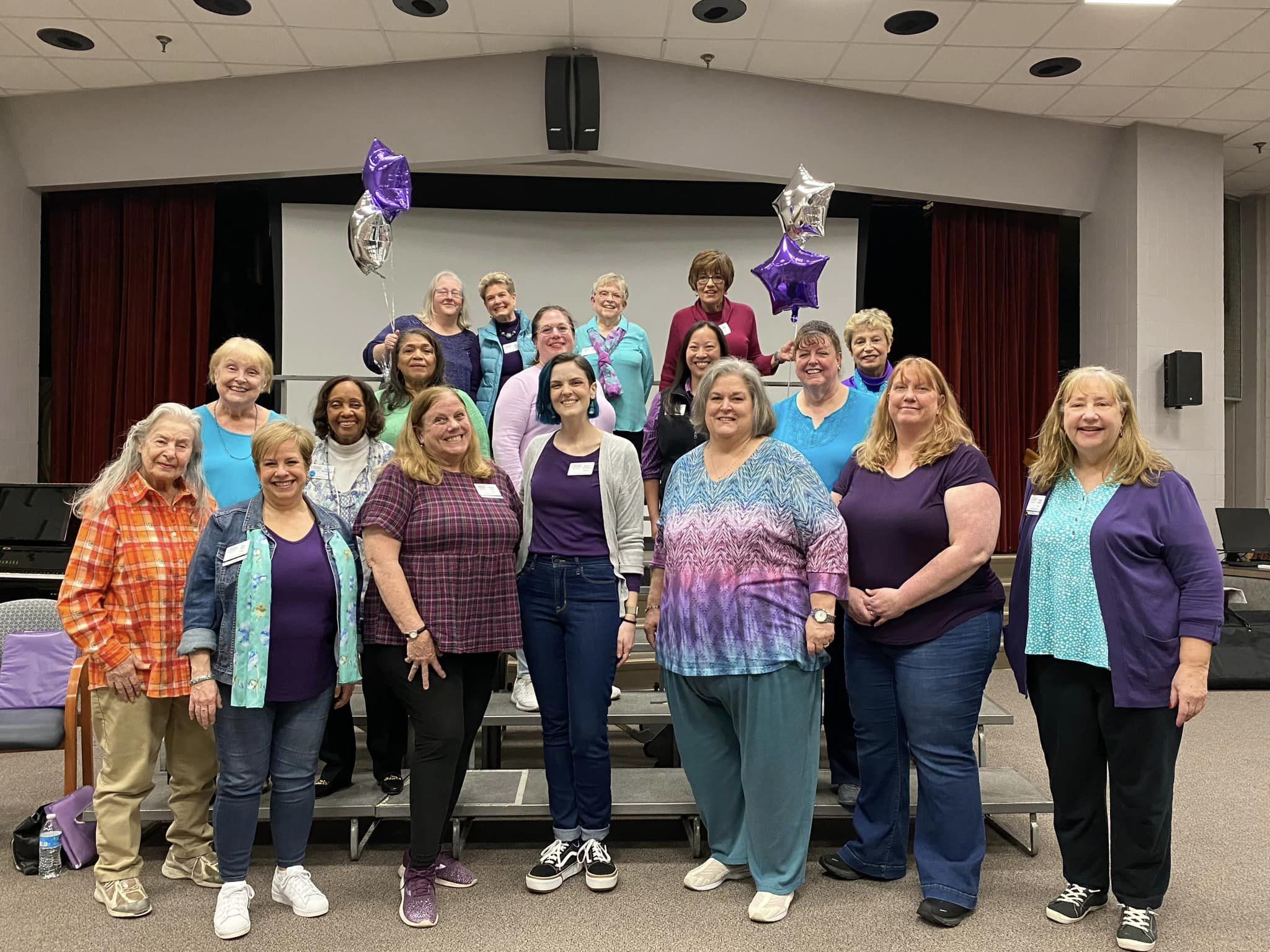 Performance
Potomac Harmony Chorus is dedicated to presenting high-quality shows for local audiences, and we participate in numerous community activities including the Arlington County Fair, Relay for Life, Light Up Rosslyn, Willard Hotel Holiday Lobbying and Ballston Common Shopping Mall Holiday Celebration.

The chorus also presents an Annual Show for the general public and performs at corporate events, residential complexes, hospitals, hospices, senior living facilities and other nonprofit organizations.
In addition to performing for local groups, the chorus has been invited to share this traditional art form at special events, such as the Open House for the Kennedy Center for the Performing Arts, the 200th Anniversary Celebration of the Constitution at the National Archives, a celebration honoring local 1996 Olympians, the opening ceremonies of the Cherry Blossom Festival and the National Botanical Gardens. Potomac Harmony Chorus has been featured on "FOXTV5," "Good Morning America" (ABC), "Capitol Edition" (WUSA), and "Arlington Alive" (Arlington Cable Television). We have also performed in shows along with men's choruses including the Historyland Barbershop Chorus in Fredericksburg, Virginia, and the Alexandria Harmonizers in Alexandria, Virginia.

The full chorus or small groups (of various sizes) are available to sing at your next function or event. If you're looking for a unique musical experience to liven up your event, please view our Hire Us section.
Education
In addition to sharing our music with others, another great passion of ours is learning more about the art of a cappella singing. Vocal instruction is a regular part of chorus rehearsals and a very important component of the chorus experience.
Affiliation
Potomac Harmony Chorus is a chapter of Sweet Adelines, International (SAI), a non-profit musical education and performance organization of approximately 30,000 members. We belong to SAI's Heart of the Blue Ridge Region #14.
Competition
In the spring of every year,
Potomac Harmony Chorus
participates in the Sweet Adeline International Blue Ridge Region #
14
chorus competition. Competitions are a special time for quartets and choruses from our region to come together to sing for each other and get some constructive feedback from a panel of judges. The winners of the regional competition in both quartet and chorus categories get to travel to International Competition, which is held in the fall in a city selected each year. We participated virtually in 2022. We have been busy with our Director search while did not leave us time to prepate for 2023, but we are looking forward to getting back on the contest stage soon!
Quartets
Potomac Harmony Chorus
enthusiastically supports the formation of quartets within the chorus - four individual voices singing in the same barbershop style. In fact, our Director sings lead for the quartet Up All night. While barbershop is the main style of music that they sing, they enjoy singing a wide variety of songs and genres. Up All Night enjoys having fun and spending time together outside of rehearsal with good food and good wine. They have represented Sweet Adelines Heart of the Blue Ridge Region 14 at International Competition in 2017, 2018, and 2019. They placed in the top 15 at the Sweet Adelines International competition in 2018. Up All Night has also competed in the National Finals for the Harmony Sweepstakes placing 3rd in 2018 and 2022. They have been singing and competing together for six years. Click here to see our quartet section to learn more about them.
Local Support
Potomac Harmony is supported in part by the Arlington Cultural Affairs Division of Arlington Economic Development and the Arlington Commission for the Arts, www.ArlingtonArts.org.